Lean Library Access (commonly known as Lean Library) is a browser extension which provides a seamless access to APU Library's subscribed resources from anywhere on the web.
Why Lean Library Access?
You are able to access to contents from anywhere with our off-campus access facility.
It helps to identify sites, articles, journals and books we have access to and provide a login or an access link.
It notifies when you land on a site that the library subscribes to.
You spend less time searching for articles and journals, and more time researching.
If the content which you found is not part of subscribed resources by APU Library, the extension will check for open access versions of the article.
Install and get started in three simple steps:
The extension is currently available for Chrome, Safari, Opera, Edge, Firefox and iOS.
Step 1: Click the "Download Lean Library Access" button above to install the browser extension. Ensure you have the latest version of the browser installed.
Step 2: Select the institution (Asia Pacific University)
Step 3: Start your research anywhere on the internet.
You can also watch the YouTube tutorial to get started!
Automatic Notifications
After downloading, the extension will notify you when you are on a website that contains licensed material the library subscribes to. A single click will open that site via the library, ensuring you've got access. If the article you'd like to use doesn't seem accessible, Lean Library Access will automatically check for open access versions of the article. Example of a Lean Library Access notice is shown below: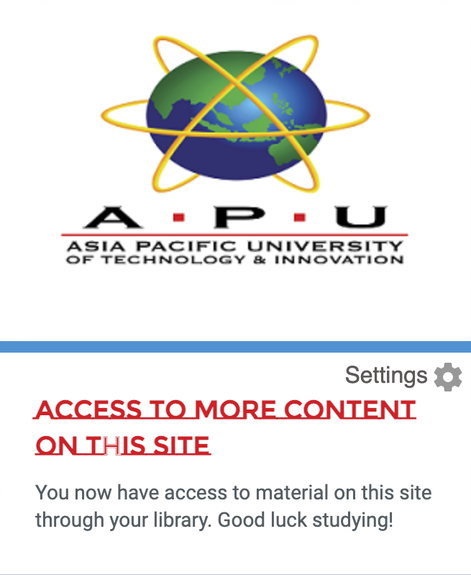 Data and Privacy 
By using the Lean Library Access extension, you will remain completely anonymous. The browser extension doesn't collect any personal information unless you actively share it. It doesn't collect your IP address or your device's unique device IDs. If you want to know more, you can refer to the privacy statement of the extension here.